History of The Wolcott Vineyard
After spending many weekends driving through the valleys of Sonoma County admiring the vineyards and the landscape, Allane and Clarence Wolcott purchased the property on Dry Creek Road in 1959. It took a move from their longtime home in Marin County to Venezuela to bring the dreams to reality. After corresponding with friends in Healdsburg and a quick trip back from Venezuela, Clarence took the plunge and became a vineyard owner.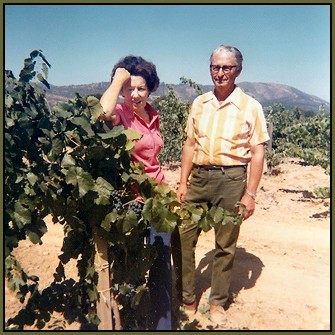 The vineyard, which is operated under the name "Rancho Arroyo Seco (RAS)", has gone through many changes over the years, keeping in step with the industry. Originally the vines were tended by one of Dry Creek Valley's oldest established growers, Paul LeBaron. In those days the vineyard was a mix of zinfandel, carignane, petite sirah and other varietals.
In the 60's and 70's it was replanted into pinot noir, chardonnay, merlot and cabernet sauvignon in keeping with the changing tastes of the wine consumers.
In 1975 Duff Bevill got his start in the vineyard management business as Clarence's tractor driver, and in 1986 took over the day-to-day operation of the vineyard. Today Bevill Vineyard Management continues the close relationship and brings a level of skill and technology that is required in today's world.
Between 1987 and 2003, the vineyard has been completely replanted in cabernet sauvignon, zinfandel and petite sirah on resistant root stock. In 2008, we t-budded and inter-planted a small block of cabernet sauvignon over to zinfandel. These varietals were specifically chosen to take advantage of the property's location in Dry Creek Valley. At the same time investment was made to upgrade the trellising and drip system.
Today, the next generation of the Wolcott family is working closely with Duff to insure that the traditions established over the years are maintained.
Chris Wolcott, his wife Melinda, and their daughters Rachel and Andrea have made a commitment to ensure that the Wolcott name will remain in Dry Creek Valley.